6 Types Of Commercial Roofing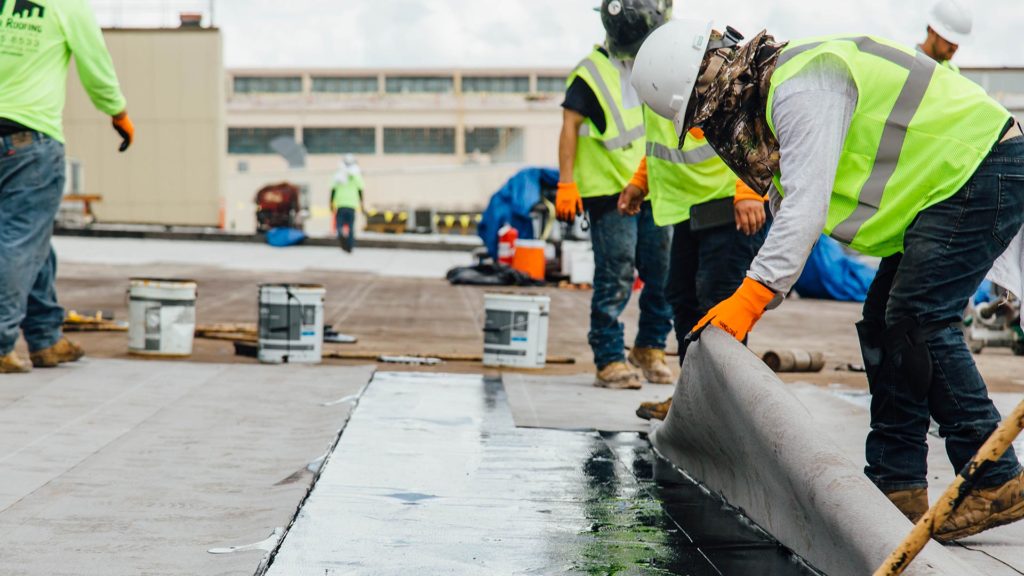 Whether you're in need of commercial roofing repair or are planning a new construction project, there are several different types of roof materials to consider. Learn about 6 Types Of Commercial Roofing to find out which one might be best for your building's needs.
Shingles are commonly seen on residential buildings, but they are also used in many commercial properties with steep roof lines. They are affordable, versatile and offer great insulation.
Singly-Ply Roofing
A single-ply membrane roof is a more lightweight option than BUR or modified bitumen roofs, and it offers energy improvements as well. These roofs are typically made of flexible sheets of synthetic polymer and come in a variety of forms, depending on the needs of your building.
These systems are known for their flexibility, durability, and ease of installation. They're also a great choice for commercial buildings with many penetrations, such as HVAC units, skylights, plumbing vents, and more. They can be attached using a variety of methods, including full adhesion, ballasting, or mechanical attachment.
Two of the most popular single-ply membranes for commercial roofs are PVC and TPO. Both are constructed of vinyl-like materials that can be heated to form a strong bond. They're highly resistant to UV radiation, punctures, tears, and chemicals. PVC and TPO are often heat-welded to create seams that are watertight, durable, and flexible.
EPDM (ethylene propylene diene monomer) is another common choice for single-ply roofs. It's a type of rubber that's also durable and easy to work with. It's usually black, but can also be white to help cut down on heating costs by absorbing solar energy. It's also resistant to ozone thermal shock and UV radiation, and it's able to withstand the weight of snow or ice.
Single-ply roofs are easier to install than built-up roofing, so they're a good choice if you're looking for a quick and cost-effective solution. They also tend to last longer than felt roofs and are much more energy-efficient.
BUR
One of the most popular types of commercial roofing is built up roofs, also known as BUR. These systems, which are typically made of multiple layers of ply sheets and asphalt that are topped with a flood coat of asphalt and granules, provide heavy-duty protection for low-slope or flat commercial roofs. These roofs are long-lasting and offer redundancy to protect the structure from water intrusion if the top layer becomes damaged. They're fire-resistant and easy to maintain.
These roofs are often fastened to the roof deck and insulation with a hot asphalt (bitumen). Recent technological advances have allowed for modified bitumens like APP or SBS that don't require the use of a torch. These new systems are self-adhering and can be applied to a roof in multiple layers. In addition, a range of options are available for the mats that reinforce the ply sheets and the type of asphalt used.
Besides the added benefits of self-adhering roof membranes, these systems are also designed to resist the effects of temperature changes. In fact, they can last more than 50 years with minimal maintenance. However, these systems are not ideal for sloped roofs and may develop problems near areas where penetrations are installed (such as drains or vent pipes) because of temperature fluctuations.
While EPDM is an extremely durable and efficient commercial roofing option, it's important to have a Roofing Contractor College Station install it for the best results. This is because it requires special installation techniques and a high-quality material to prevent leaking. In addition, the seams must be properly adhered to ensure proper waterproofing. If they are not properly installed, EPDM seams can begin to leak within a few years.
TPO
Thermoplastic polyolefin, or TPO, is one of the newest commercial roofing systems. Its natural reflective construction makes it a popular choice among businesses looking to save money on energy costs. In addition to the savings TPO can provide, it is also extremely durable. The seams in a TPO roof are heat-welded, which can help protect the membrane from punctures that may lead to leaks. However, it is important to note that puncture resistance depends on the substrate and installation techniques used. It is important to hire a first-rate roofing contractor who has experience installing TPO systems.
The TPO membrane itself consists of at least three layers that are bonded together to create a single membrane. These layers include a polyester base layer, a thermoplastic rubber layer and a reinforcing scrim. This scrim adds elasticity and increases the strength of the roof. It is often infused with other materials, such as talc, fiberglass and carbon fibers, to further increase the membrane's durability and performance.
These additives can amplify the chemical and heat resistance of the TPO membrane. Depending on the specific formulation, TPO can contain things such as fire retardants, antioxidants, and lubricants. The TPO is typically affixed to the cover board and insulation by either using an adhesive or a hot-air welding type gun.
TPO is highly weather-resistant and can last for decades if the proper maintenance is performed. However, it's crucial to have regular roofing inspections done by a professional commercial roofing contractor. This will ensure the integrity of the membrane and will help identify any potential problems before they become worse.
The price of a TPO roof will depend on the membrane itself, the cover board, insulation and accessories, as well as other factors such as the size and location of the building. The installation cost will also depend on whether the membrane is installed over an existing structure or if it is being replaced.
Modified Bitumen
This type of flat roof is a popular choice for commercial buildings, as it offers superior durability and energy efficiency. Modified bitumen has a resilient composition that can withstand a variety of environmental conditions, including rain, hail, and high winds. Its multiple layers also provide excellent protection against cold and hot temperatures.
Modified bitumen is composed of rubbers and plastics, which are adhered to fiberglass or polyester fabrics to create a strong roofing membrane. Its construction is similar to that of built-up roofing, and it is available in two main types: APP modified bitumen, which contains plastic polymers, and SBS, which conveys a rubber-like quality.
Depending on the project, a layer of insulation may be added to the roof before the modified bitumen is installed. This helps to reduce the roof's heating and cooling costs. The insulation is usually fastened using screws, plates, or insulation adhesives.
A low-slope or flat roof requires a protective layer of modified bitumen to keep water from seeping through the structure and causing damage. Modified bitumen is one of the most durable roof systems on the market, and its inherent thickness is an advantage compared to single-ply membranes. A 2-ply modified bitumen system with a granulated cap sheet is typically 240 mils thick or more.
The most common installation method for a modified bitumen roof is the torch down technique. During this process, an installer heats the underside of the modified bitumen sheet with a propane torch to bond it to the substrate. Alternatively, a self-adhered version is available for those looking to avoid open flames and heat-related fire hazards. Whether you opt for the self-adhered or torch down option, a modified bitumen roof can last up to 20 years or more with minimal maintenance.
EPDM
EPDM is the single-ply rubber roofing membrane that has been the go-to choice for low-slope commercial roofs for over 40 years. It consists of synthetic rubber compounds (ethylene and propylene diene terpolymer) that can be installed fully adhered, mechanically attached or ballasted. It is available in a wide range of widths, up to 50 feet, and comes in two thicknesses: 45 and 60 mils. It is fairly lightweight, weighing only half a pound per square foot for 60-mil, fully-adhered EPDM.
It has excellent ozone, sunlight and weathering resistance and is very flexible at cold temperatures. It is also very durable and resists punctures, abrasions and penetrations. EPDM also upholds drinking water standards and is used in a wide variety of applications including garden hoses, tubing, washers, belts, solar panel heat collectors and electrical insulation.
When it comes to choosing the best roof for your building, the type of commercial roofing material you choose is one of the most important decisions you'll make. There are many different roofing materials to choose from, each offering different benefits and features. Some of the more popular types of commercial roofing include single-ply membranes, PVC and BUR.
Single-ply membranes offer durability and cost efficiency, making them an excellent choice for manufacturing and commercial warehouse facilities. They are also resistant to moisture, dirt accumulation, and chemicals. EPDM is another durable option for industrial buildings, but it may not be the best fit if you're looking for a more aesthetically pleasing roof. EPDM roofs can be unsightly, and they don't come in a wide range of colors or textures. They also tend to absorb more sunlight and exterior heat, leading to higher energy bills.
Whether you're in need of commercial roofing repair or are planning a new construction project, there are several different types of roof materials to consider. Learn about 6 Types Of Commercial Roofing to find out which one might be best for your building's needs. Shingles are commonly seen on residential buildings, but they are also…
Recent Comments
No comments to show.